CDN PROTECTION K9 UNITS ARE HIGHLY TRAINED AND OFFER A HIGHER LEVEL OF THREAT RESPONSE THAN A REGULAR GUARD UNIT

Our security officers work with specially trained dogs as a highly efficient team. Our K9 units are an excellent option for environments requiring a higher level of security over a broader area.
K9 units are particularly adept at patrolling large areas or areas where cameras are ineffective due to complex sightlines or RF interference.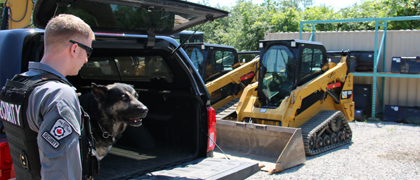 K9 units provide a much greater deterrent to a site inspection. K9 units are highly trained in attack and restraint, and can lend a more powerful presence to any patrol work.
With heightened senses of hearing and smell, dogs can amplify the senses of our security officers, alerting them to threats and information they might not otherwise detect.