DEN PROTECTION K9 DETECTION SERVICES OFFER A PROACTIVE LEVEL OF SECURITY

Our K9 Detection services utilize Guard Handlers and canines that receive highly specialized training.
Detection training can run between 10-14 weeks depending on the dog speciality. (drugs, explosive ordinance, accelerants, cadavers). Addition cross training with the handler happens after graduation. Our training is completed via a Nationally recognized and certified third party trainer.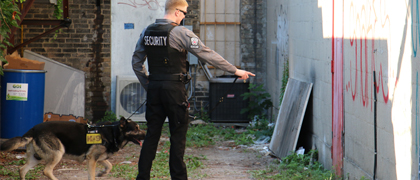 Our K9 Detection units operate under NDA and confidentiality agreements as needed, and can be deployed in a number of specialized, delicate situations, including:
Confidential Drug Searches
Accelerant Searches
Explosive Searches
Cadaver Searches and Search and rescue operations